Plasma cutting machine

GVs

New

GVs is the high definition plasma cutting machinery extremely fast in motion and precise in cutting, even for large sheet thicknesses.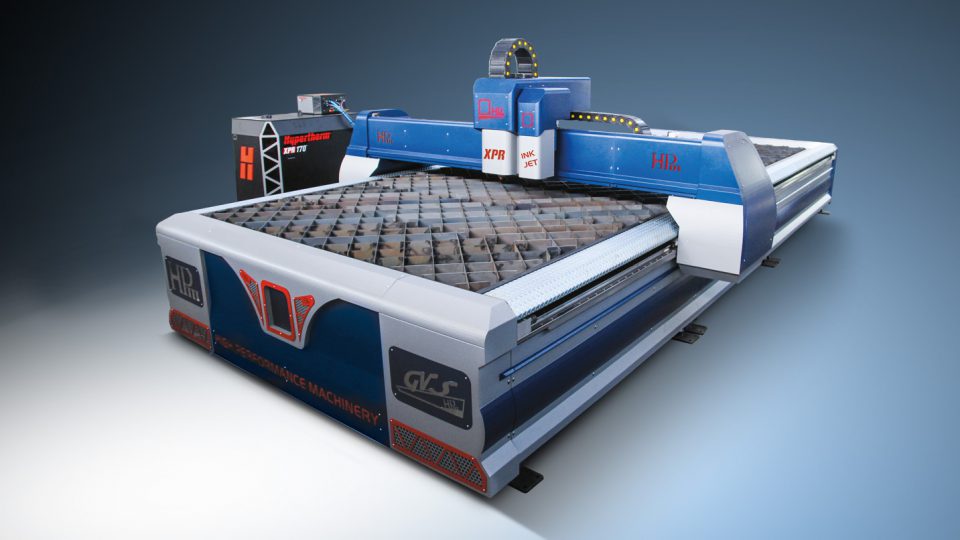 Features GVs
GVs is the fastest plasma cutting machinery, consisting of a lower steel frame and the electrically welded aluminum crossbeam. Like all HPm machinery the prismatic guides and racks, where the crossbeam slides, are housed on the upper part of the longitudinal side member; this center of gravity allows a perfect balancing useful in accelerations and cutting precision. The CNC and the electronic part ensure to GVs to be performing, reliable and simple to manage.
The machinery has automatic height control and is equipped with a 360° anti-collision system to protect the torch from unexpected obstacles when cutting or moving the axes.
High speed and perfect cutting are due to the use of high-quality components, Brushless motors with absolute encoders rectified racks and pinions, double prismatic guides, recirculating ball bearings and high precision reducers. All this allows to get as close as possible to the laser cutting, but at an advantageously lower price.
The table is separated from the lateral side members and it is divided in suction sectors with shutters automatically managed by the CNC. The upper part of the laying table consists of interchangeable rhomboid grids.
GVs is the ideal machinery for works of medium-heavy carpentry and is the answer to production needs, which require versatility, speed and accuracy.
On this machinery we can apply any kind of plasma generator. It is produced in cutting sizes of 1.5 – 2 – 2.5 – 3 meters in width, while they reach even 40 meters in length.
The height between the grid and bottom of the crossbeam is 145 mm.
Accessories GVs
Next to the plasma torch following options may be installed:
pneumatic drilling such as a single spindle to drill holes with a maximum diameter of 12 mm;
"Ink-Jet" marker to print your identification code on each piece.
It is also possible to equip the "GVs" of the round tube cutting accessory with a diameter up to 600 mm, or the max. 550×550 mm square tube cutting with the possibility of raising the carriage from 145 mm to 245 mm of useful passage.